IENE 6 Project
Contemporary large migration waves into Europe: Enabling health workers to provide psychological support to migrants and refugees and develop strategies for dealing with their own emotional needs
Aim of IENE6
The aim of the project is to empower healthcare professionals and volunteers to deal with migrants and refugees from the current massive waves of displaced people which are reaching Europe and who are experiencing massive traumas and tragedies in their endeavours to flee to a safe and 'better' place for themselves and their families.
How are we doing it?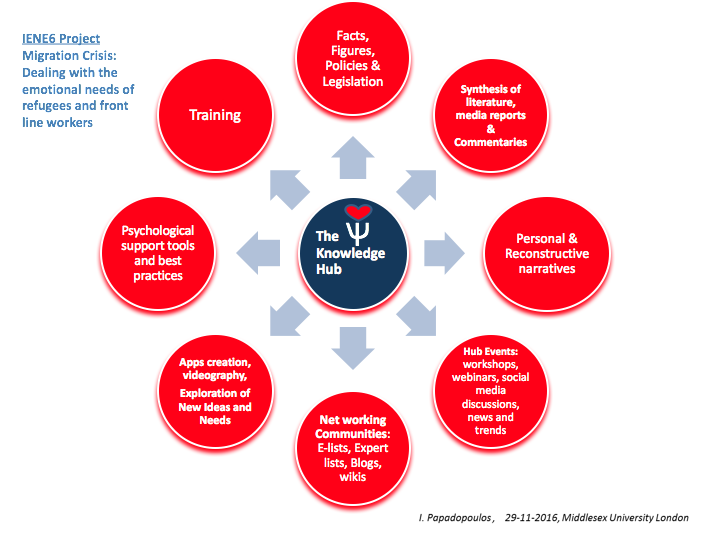 The project is  developing a knowledge hub (KHub) for nurses and other health  professionals and volunteers, who are dealing with refugees.
A knowledge hub (Khub), is…
A centre or focal point for the exchange of knowledge, support, development and ideas.
It is a trusted learning and sharing environment, where everyone can benefit from a shared understanding of what works and what does not in a culture of collaborative practice development, sharing and problem solving (Steve Dale, 2011).
Knowledge hubs can also be used to generate knowledge (Hans-Dieter Evers, 2008) and to transmit knowledge to other people,  through education and training (Botkin and Seeley 2001 ).
The KHub will focus on:
developing the health workers' competencies to provide emotional/psychological support (Psychological First Aid) in culturally competent and compassionate ways….
helping health workers and volunteers to develop strategies to cope with high levels of their own personal traumas ….
creating a network, a place where members of various communities can come together to discuss, comment, brainstorm, share views and good practices and experiences, innovate, connect and collaborate.
What is Psychological First Aid (PFA)?

The WHO guide on PFA states that:
psychological first aid involves humane, supportive and practical help to fellow human beings suffering serious crisis events, in ways that respect their dignity, culture and abilities.
Dieltjens et al (2014) describe PFA as an intervention approach aimed at helping people deal with the experience and the consequences of a disaster or adversity.
Their practice is strongly based on the five principles of Hobfoll meaning that the main purpose of PFA is to install feelings of safety, calmness, self- and community efficacy, connectedness and hope.