MARIA MALLIAROU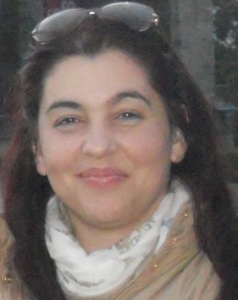 EMAIL:
mmalliarou@gmail.com
QUALIFICATIONS:
RN, PhD, MSc  (Health Informatics), MSc  (Health services Management)
CURRENT JOB TITLE, NAME OF INSTITUTION AND COUNTRY:
Registered Nurse, Scientific Collaborator TEI of Thessaly, Nursing Department. Greece.
RESEARCH/ TEACHING EXPERIENCE RELATED TO CULTURALLY COMPETENT COMPASSION:
None
RELATED PUBLICATIONS:
P Sarafis, M Igoumenidis, C Tzavara, M Malliarou. Reliability and Validity of the Transcultural Self-Efficacy Tool Questionnaire – Greek Version (TSET-GR). Journal of Nursing Measurement Volume 22, Number 2, 2014, pp. 41E-51E(11)
Sarafis P, Malliarou M. Cultural self-efficacy of baccalaureate nursing students in a Greek university. Iranian Journal of Nursing and Midwifery Research 2013, 18(6):446-450
http://www.ncbi.nlm.nih.gov/pmc/articles/PMC3917126/
Sofia Zyga, Maria Malliarou, Maria Lavdaniti, Maria Athanasopoulou, Paul Sarafis. Greek Renal nurses' attitudes towards death. Journal of Renal Care 2011;37(2):100-107.
 Malliarou Maria, Sarafis Pavlos, Sotiriadou Kiriaki, Serafeim Tatiana, Karathanasi Kostantinia, Moustaka Eleni, Theodosopoulou Eleni. Greek Nurses Attitudes towards Death. Global Journal of Health Science 2011, 3(1):224-230.
Maria Malliarou, Kostantinia Karathanasi, Vasiliki Roka Alexandra Karvouniari, Pavlos Sarafis. Investigation of Greek Military Nursing Academy Students' Death Attitude. Balkan Military Medical Review  Jun 2013; 16 (supplement)
P Sarafis, A Tsounis, M Malliarou, E Lahana. Disclosing the Truth: A Dilemma between Instilling Hope and Respecting Patient Autonomy in Everyday Clinical Practice. Global Journal of Health Science 2014, 6(2):128137
Sarafis P, Malliarou M, Moustaka E, Karathanasi K. (2010). Greek nurses need for transcultural education. Balkan Military Medical Review 13(3),12495
CURRENT AND FUTURE CONTRIBUTION TO VICTcORY:
Coordination of the translation –back translation of the compassion questionnaire into Greek.
Literature Review regarding the  online survey methodology.
Analysis of qualitative compassion data from Greece.
OTHER SIGNIFICANT ACHIEVEMENTS: