SHEILA ALI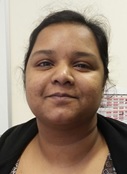 EMAIL:
s.x.ali@mdx.ac.uk
QUALIFICATIONS:
BSc Psychology, MSc Neuropsychology
CURRENT JOB TITLE, NAME OF INSTITUTION AND COUNTRY:
Research Assistant, Middlesex University, London, United Kingdom
RESEARCH/ TEACHING EXPERIENCE RELATED TO CULTURALLY COMPETENT COMPASSION:
I assisted Professor Rena Papadopoulos with an integrative review of measuring compassion in nurses and other healthcare professionals. I also assisted with data analysis for an international survey of compassion in nurses.
CURRENT AND FUTURE CONTRIBUTION TO VICTcORY:
I am currently working as a research assistant with Professor Papadopoulos and assisting with several projects including the evaluation of a MOOC about culturally competent compassion and the development of a measuring tool for compassion.