Transcultural Nursing Robotics
Find out more




IENE Projects
Find out more



International Education of Nurses in Europe

VICTcORY
Find out more

Virtual International Centre for Transcultural cOmpassion Related to Ygeia(health)


Spirituality
Find out more
​Currently this programme includes two projects:
1)Spiritual support for hospitalised COVID-19patients during March to May 2020 ​
2) Towards a National Strategy for the provision ofSpiritual Care and Support during Major Health Disasters

The Research Centre for Transcultural Studies in Health aims to enable the development of health and social care professionals and services to deliver culturally competent and compassionate care that ultimately ensures high-quality care for all.
Formed in 1995, this multi-disciplinary centre brings together health and social care professionals from around the world to research, develop tools, share and exchange knowledge, in order to promote and continually enhance the understanding and delivery of culturally competent and compassionate care.
The Centre organises much of its work on a model which its founder developed in the mid-1990s. The model, formally known as the 'Papadopoulos, Tilki and Taylor (PTT) model for Transcultural Health and Cultural Competence' consists of four key constructs: cultural awareness, cultural knowledge, cultural sensitivity and cultural competence. In 2006, Papadopoulos revised the PTT model and added its conceptual and theoretical underpinnings.
Find out more
What is cultural competence?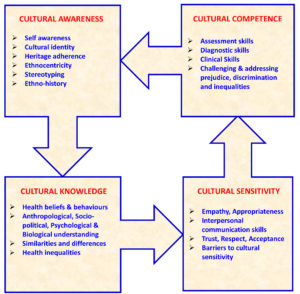 Cultural competence is the capacity to provide effective healthcare taking into consideration people's cultural beliefs, behaviours and needs.
Cultural competence is both a process and an output and results from the synthesis of knowledge and skills which we acquire during our personal and professional lives and to which we are constantly adding. 
LATEST FROM TWITTER
---
If you missed our webinar on Friday you can watch a recording of this via the following link:

📺 https://www.youtube.com/watch?v=dYVmWgcPEQk @irena_pap @runalazzarino @AlfPezzella
Load More...