Teresa González Gil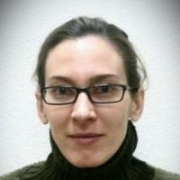 QUALIFICATIONS:
Registered Nurse; Anthropologist; PhD
CURRENT JOB TITLE, NAME OF INSTITUTION AND COUNTRY:
Lecturer in Nursing Department- Universidad Autónoma de Madrid
RESEARCH/ TEACHING EXPERIENCE RELATED TO CULTURALLY COMPETENT COMPASSION:
I have no experience related with culturally competent compassion.
Nevertheless on this new academic course I will teach about psycho-sociology nursing care.
RELATED PUBLICATIONS:
I have no publications closed related with compassion.
CURRENT AND FUTURE CONTRIBUTION TO VICTcORY:
I have contributed in collecting data about nursing compassion research in Spanish context with Angel Martin and Critina Oter.
As my colleagues in Spain, my contribution to VICTcORY will be best useful in teaching about compassion in nursing (paper 2).
Is on teaching field where I think future contributions would be possible (strategies to education in compassion).
OTHER SIGNIFICANT ACHIEVEMENTS:
Link to Researchgate profile: http://www.researchgate.net/profile/Teresa_Gonzalez-Gil